COVID-19: measures taken by the City of Paris
Measures to contain the spreading pandemic of COVID-19 (selection - April 2020)
(Photo credit: Jean-Baptiste Gurliat / Henri Garat / Ville de Paris)
Contexte
Starting March 17, 2020 stay at home instructions have become the basic rule for everyone in France . In Paris, several measures targeting Parisians have since been set up to support healthcare workers, ensure continuity of municipal services, and take vulnerable people into account in compliance with governmental measures (see selection below).
Solidarity with the most vulnerable
With regard to food aid, and in addition to the distribution points that associations have managed to keep running (see map on paris.fr) the City of Paris is, from now on:
Distributing on a daily basis 2.000 individual meal packs in its soup kitchens.
Making 2.000 individual meal packs available every day to emergency social services (Samu social), civil defense patrols and church networks.
Opening 5 new distribution points jointly with the State and the association Aurore, to give away every day 4.000 meal packs: Barbès (18th district), Carreau du Temple (3rd district), Grands Voisins (14th district), Quai D'Austerlitz (13th district) Halte humanitaire Porte de la Chapelle (18th district).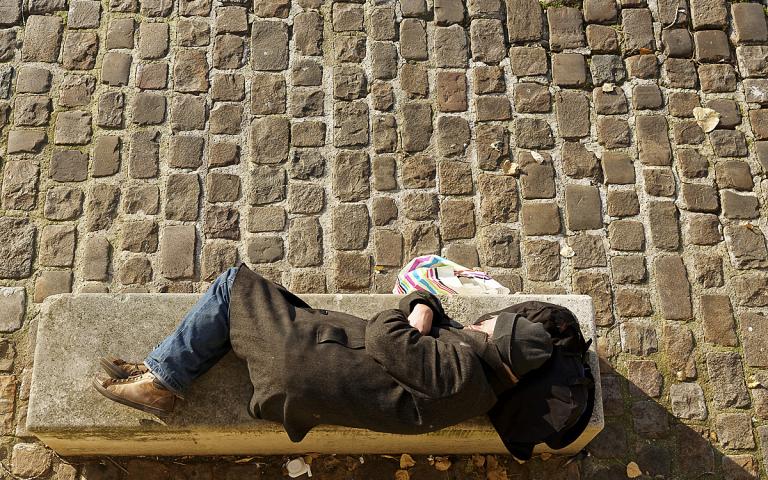 A total of 13.000 meals are distributed every day in 10 soup kitchens and 22 churches. On April 9, the City also provided families paying the lowest canteen rates (0,13€/meal, 0,85€/meal and 1,62€/meal) with an exceptional aid of 50 to 150€ per month (+ an extra 50€ for the second and third child only). It will benefit 28.579 Parisian families, i.e. 52.000 children.
As for migrants, and most vulnerable or homeless people, several measures have been taken in terms of
accommodation, hygiene or nutrition:
Jointly with the State and NGO's, 14 gymnasiums have been opened to homeless people.
Hotel rooms were made available to NGOs sheltering families with children, such as the CIS Paris Kellerman hotel in the 13th district.
All 17 municipal bath and shower establishments remain open and an interactive map on paris.fr gives the location of drinking water fountains some of which have been repaired with the cooperation of Eau de Paris.
Through the "Fabrique de la Solidarité", a call for volunteers, has been circulated for volunteers wishing to help homeless people. In less than a week, more than 1.000 Parisians participated in social patrols, in preparation and distribution of meal packs. Local aid networks, via jemengage.paris.fr platform, have been created enabling Parisians in need of help to connect with those willing to give a hand in their building or neighborhood, while always abiding with lockdown and recommended health measures.
On April 9, to address the inequalities in access to information, the city of Paris and the SeineSaint-Denis region, in partnership with the association Vers Paris sans sida, launched an information campaign on the health crisis for allophones, undocumented workers and asylum seekers, with the support of a video available in almost 25 different languages.
During the lockdown period, to rescue the victims of domestic violence, jointly with State services , the decision has been taken to keep police stations open for the filing of complaints, and the emergency number 17 has been made available to report abuses 24/7. Leaving home to file a complaint at the police station is authorized under lockdown rules. The emergency call services are maintained, as well as the Parisian legal information centers.
Tenants who experience a fall of income or a tense financial situation and have trouble paying their rents, should contact their landlord without delay, to find appropriate solutions. The staggering of unpaid rents may be considered, for a period of time adapted to each situation, and specialized counseling in the clearing of debts is being offered. In an effort to support the purchasing power of tenants, Paris Habitat, the City's largest social landlord, has decided to adjust the collection of condo fees: 56.000 tenants will benefit from reimbursements for a total amount of 10 million euros.
For the elderly and disabled people: starting April 6, the city of Paris has decided to test systematically all public and private Parisian medicalized elderly homes (EPADH). The « Paris en Compagnie » program has been redefined for elderly people staying at home. The usual volunteer program supporting isolated people over 65 years old has been replaced with companion calls to maintain the social link. 
Since March 11 ,volunteers have placed more than 1500 calls and since April 7, famous people such as Elsa Zylberstein, Yamina Benguigui, Catherine Frot, Christophe Lambert, Franck Dubosc, Gad Elmaleh, François-Xavier Demaison, François Berléand, Dave, Liane Foly… are placing calls to catch up on people's news or to read to them.
For students: the city of Paris and the CROUS together have undertaken to support students in lockdown through student centers or « maisons de la vie étudiante »: scholarships are maintained and students in precarious situations can apply for emergency aids. A free of charge phone line offering psychological counseling has been set up for all Parisian students.
For health workers
Every evening from 8 to 11p.m., the Eiffel Tower pays tribute to all the people mobilized against the Covid-19 by displaying messages of gratitude and warnings to stay home. First "Merci" (thank you) is displayed on the Eiffel tower in tribute to caregivers, police and enforcement officers, fire fighters, Paris City agents, first-aid workers, ambulance drivers, soldiers, cashiers, garbage collectors, shopkeepers, delivery personnel, volunteers, caretakers, NGOs, and Parisians, all of them mobilized against the Covid-19, then from 8:30 p.m. to 11 p.m., there is two alternating messages, in French and English respectively, to remind people that staying home and going out only if absolutely necessary helps save live « Restez chez vous » and « Stay at Home ».
Culture
Paris is also supporting the "Mouvement des Fenêtres" (windows movement) and documents their creations through which the Parisians express themselves during and after they clap from their window every night at 20h in support of health workers. Guaranteeing a minimum pay level for artists and technicians whose performances are cancelled is also under consideration. The City of Paris will pay broadcasting and creation aids it has committed to, even if the initially scheduled number of performances is not reached.